Proofing
Proofing your home or business property is the best way to deny pests, (birds insects and rodents) entry to your space. Pests create environmental issues and damage the fabric of the buildings entered.
Mouse mesh vents – ABS frame with stainless steel mesh inserts to cover airbricks to stop mice entering, various colours available.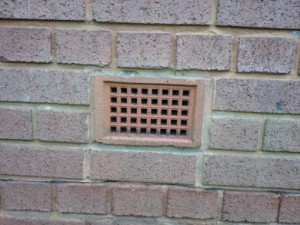 Bristle strips to fit around windows and doors in various sizes to keep out birds, insects and rodents, also helping with draughts, dust and noise pollution.
Weep hole fittings for ventilation and drainage holes in walls preventing rodents and wasps gaining access to cavities. Made of sprung stainless steel.
Xcluder mesh for the use in cracks, crevices and holes; the mesh is designed to stop rodents gnawing and burrowing into your premises. The mesh has a spring back allowing it to stay in place indefinitely from rodents getting past or removing the product.
Fly screens for windows keep out flies, wasps, mosquitoes, moths and all other unwanted flying insects entering any food preparation areas; fixed or removable for easy cleaning. Fly screens are made from aluminium and are polyester powder coated. Complies with food safety general hygiene regulations 1995.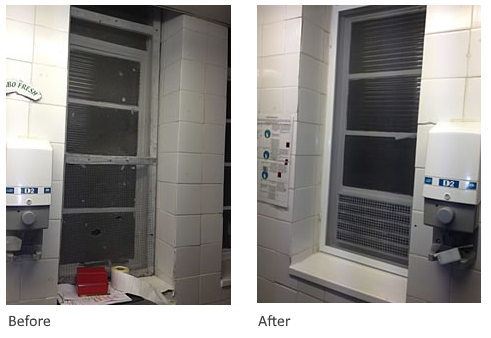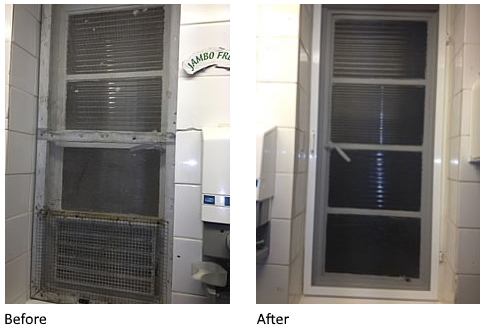 Rats had gained access in to the walls through the below plastic air brick then into the cavities up into the loft space of this property in Bournemouth.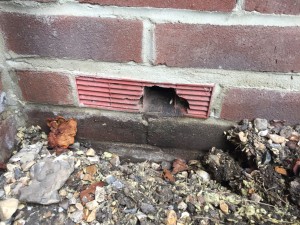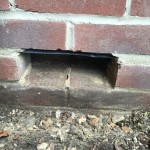 Chain screen doors are ideal for walk through doorways, greatly reducing flying insects to an absolute minimum; chains are aluminium anodized in various colours and the top rail is silver aluminium anodized.
Contact us for a free quotation for ALL your pest proofing solutions.