Wasp Nests Destroyed
Wasp nest destroyed for both hornet and wasps.
Wasp nests are made from chewed wood, saliva and pulp, giving them the distinctive appearance of paper like walls.
Hornets build nests in tree cavities, bird nest boxes, loft spaces and hollow walls.
Queen wasps will seek sheltered spots to build their nests in lofts, wall cavities, roof spaces, out-buildings, store rooms and under the eaves of buildings.
Wasps and hornets will deliver a sharp sting and may defend in large numbers if disturbed or provoked.
South Coast Pest Control offers a fast, effective call-out service to safely treat hornet and wasp nests.
We are available 7 days per week.
South Coast Pest Control offers treatment and proofing; screens, wasp traps and fly killers. We offer a fly unit rental scheme or you are able to purchase a unit at very competitive prices.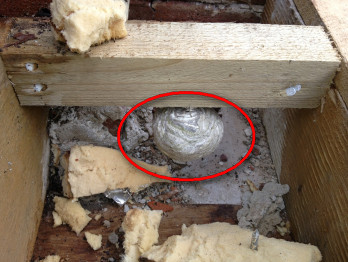 The clearance of a wasps' or hornets nest requires professional expertise.
South Coast Pest Control technicians will be able to solve your wasp/hornet problem quickly, safely and professionally.
If you are experiencing problems with Hornets /Wasps or other pests then contact us by phone or email to discuss your specific requirements. We aim to return your call within 30 minutes.
South Coast Pest Control is a Wasp Nest Removal UK member.