Controlling & Eliminating Rats
The brown rat has an average weight of 335g. It is 200-270 mm in length (head and body) and the length of the tail is 150-200 mm. The common rat has small ears and eyes.
Life cycle
Conditions that suit a rapid population increase are a good supply of food and water, suitable temperatures and an undisturbed cover. With such conditions, breeding will continue throughout the year. Rats are able to reproduce from the age of three months. Mating is carried out on an opportunistic and promiscuous basis. Mating is brief and can take place with a number of males. The period of pregnancy (gestation) is approximately 21-24 days. With the average size of the Common Rat litter between 6 – 11. The female rat may be willing to mate and can conceive again soon after the original litter is born.
Diet
Brown rats are omnivorous but prefer starch and protein-rich foods. Their diet includes meat, fish, vegetables, weeds, earthworms, crustaceans, nuts and fruit.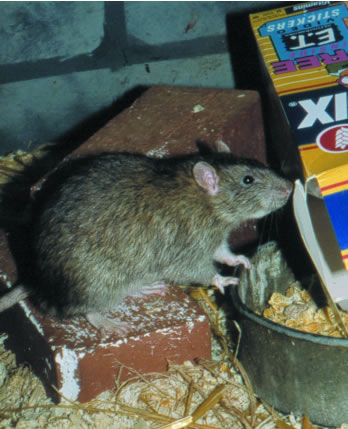 Rats tend to take the same path when traveling, which in turn creates a run that is visible to the naked eye. Eventually the rat runs will turn into well-worn dusty paths that lead from their burrows to their food and water supply.
Outdoor burrows are usually very easy to spot and are often situated on sloping ground. The entrance holes are approximately 70-120 mm in diameter.
Rodents are incontinent and foul wherever they travel.
Rats and mice are carriers of numerous diseases such as Salmonella, Hantavirus and Weil's disease.
The droppings and fur of rats and mice will also contaminate food preparation surfaces and foodstuffs. Common rats can produce up to 40 droppings a day, they are on average about 12 mm in length and taper to a point at both ends. Fresh droppings are a tell tale sign of rodents.
They need to gnaw constantly as their teeth continue to grow throughout their lives. They can gnaw through cables, plastic, wooden doors and even mild steel! Rats can be distinguished as their incisor teeth marks are about 3 mm wide.
As well as the health risks associated with rodents, buildings can be damaged; pipe work, electrical cables causing fires, floods and expensive repair bills.
Schedule regular rodent control service visits with South Coast Pest Control to prevent further infestation outbreaks.
If you are experiencing problems with Mice/Rats or other pests then call or email us NOW to discuss your specific requirements.
We look forward to helping you……….don't leave it to the pests!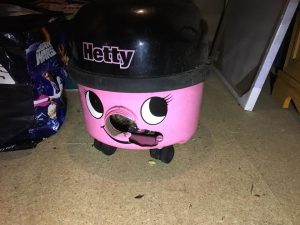 Rats had chewed through this Hetty vacuum in a loft space in Wimborne. See how thick the plastic is that they cut through. There must have been some food stuffs in there to attract them. If you think there's even a chance rats are doing this kind of damage in your loft or roofspace give us a call.
No more rats
"Would recommend SCPC without hesitation. Frank and Matt are very friendly, polite, extremely knowledgeable and are experts in what they do. We had a rat problem and when I called for a quote Frank was able to come round the same day and have a look and quote me for the job. The work was carried out very professionally and had a successful outcome - no more rats - yay!"
Householder
Weymouth, Dorset
Rat removal
"Very pleased with Frank and Matt. Excellent, professional guys and would recommend them highly."
Householder
New Milton, Hampshire
Ratty invited his friends!
"When the some of the "Muroidea" family (Ratty Ratus) moved into our back garden we tried to deal with the problem with shop bought solutions, but it did not work. Then we found that Ratty had invited all his friends around and decided to move upmarket from the garden to inside our garage where they had a party! That was a line they should not have crossed it was time to bring in the professionals. From day 1, Frank at SCPC was brilliant - he knew what to do and together with Matthew have resolved the issue. I am totally impressed with their service - Thank you SCPC - top job"
Mr A
Householder
Verwood, Dorset
Same Day Rat Removal
"Recommend South Coast Pest Control. On time, the only company to come out on the same day (from 4 called!) on a Saturday. After a course of treatments we are happy to say we no longer have a rat problem."
Ms B
Householder
Pokesdown, Dorset
Prompt Rat Removal
"Thank you for your prompt response to our rat problem. A professional company and highly recommended."
Mrs H.
Householder
Creekmoor, Poole, Dorset
Rat Pros
"I would like to commend South Coast Pest Control for their punctuality, professionalism and efficiency. A job well done, thank you."
Mr A
Householder
Wareham, Dorset
Rat Spoilt My Bath… Ugh!
"Swift response on the Saturday night. We couldn't believe it, had a rat in our bathroom! Thanks Frank."
Miss H
Householder
Ferndown, Dorset