Control of House Flies
Flies can transmit intestinal worms, and their eggs. Diseases such as gastroenteritis, typhoid, dysentery, cholera and tuberculosis are associated with these insects.
A fly will liquefy food by regurgitating their stomach contents and juices on to the food substance.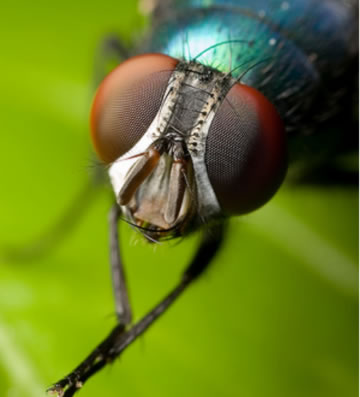 The common housefly has a flight range of at least 5 miles /8 kilometres, whereas the Lesser housefly makes longer flights, and only the males of the species migrate.
In warm environments houseflies will reproduce throughout the year. The adult fly will live for 1-3 months, and can produce up to 5 batches of 100-150 eggs.
The full cycle of the larval development is generally completed between 1- 4 weeks, depending on the temperature.
Larvae need to migrate from breeding sites to lesser temperatures in order to pupate.
Call SCPC, who will send a technician to identify possible breeding areas, provide a solution to the fly problem with treatments, and recommend fly screens /fly control units.
SCPC uses the Exodus ULV Machine – it passes the treatment liquid through a specially designed unit, which generates an airborne mist of fine droplets. These droplets permeate the treated area and settle out onto surfaces.
If you are experiencing problems with Flies or other pests then please contact us on 01202 604682 to discuss your specific requirements. Or email us atinfo@southcoastpestcontrol.co.uk.
We look forward to helping you……….don't leave it to the pests!