Flea Treatment and Control
Unknown to many, there are many varieties of fleas; human fleas, dog fleas, cat fleas, rabbit fleas, hedgehog fleas, bird fleas, mole and tropical rat fleas!!
Although in Europe, fleas are not generally responsible for the transmissions of disease, the bites are irritating and identified as a tiny dark red spot, surrounded by a reddened area.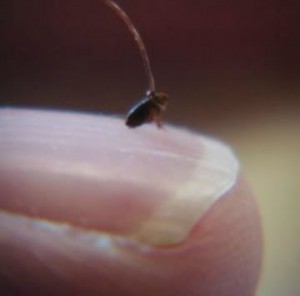 Flea treatment
Wall to wall carpeting and the common use of central heating enables the flea larvae to develop in homes and businesses.
South Coast Pest Control carries out a minimum 2 part treatment in the price given.
South Coast Pest Control will carry out an insecticide spray treatment, to all floor wall junctions, cracks and crevices behind furniture, under furniture and all accessible areas, carpets included.
South Coast Pest Control uses the Exodus ULV Machine (ultra low volume)- it passes the treatment liquid through a specially designed unit, which generates an airborne mist of fine droplets. These droplets permeate the treated areas and settle out onto surfaces. Seeking out and killing the fleas more efficiently than other treatments.
Two visits to your home at a time to suit you, you do have to be out of the property for four hours, so if you would like an early morning call, from 6am onwards.
For more details please call or e-mail your number.
All SCPC's work is guaranteed.
Available 7 days per week.
If you are experiencing problems with fleas or other pests then contact us by phone or email now to discuss your specific requirements. We aim to return all calls within 30 minutes.
We look forward to helping you……….don't leave it to the pests!
Flat treated for fleas
"I was impressed with the initial call I had with South Coast Pest Control. I was told exactly what treatment would be required and how much it would cost, and they weren't 'pushy' at all. Other contractors called were far less satisfactory. Some didn't respond at all. Another gave a very vague description of the work that needed doing. South Coast Pest Control performed job today and were first class in every respect. Answered all questions, briefed me re H&S, very neat and tidy work, well turned out/smart. I have only good things to say. Should I ever have the need again, I will use South Coast Pest Control and will recommends them."
Householder
Eastleigh, Hants
Gets the job done
"This gets the job done, you may pay a little more than the cheaper options, but stop and wait most companies do a single visit. This guy comes back two weeks later to eliminate those that have survived the first visit along with all the newly hatched ones. Plus he offers a guarantee, not that he needs to offer one. As he does exactly what it says on the tin. I have a huge phobia of infestations, to the point of debilitation. I needed someone to get the job done first time and that is what Frank does best. Thank you Frank for saving us from that nightmare. We will always use you again."
Dan
Householder
Southampton
Animal fleas
"Extremely pleased with their professional approach as we had only been in the property for a couple of weeks. Matt left house secure after he completed the job and explained all health and safety aspects before he began. We would be very happy to recommend this company again."
Householder
Wareham, Dorset
Trust Us for Flea Problems
"I would just like to compliment a member of your staff who undertook treatment at our house. I believe his name was Matt.He was very friendly and professional and gave us good clear advice. Nice know to know you can trust someone when they enter your house.Thanks for your service"
Mr P
Householder
Poole, Dorset
Flea Plea …
"Thank you for getting rid of the fleas! Would definitely call you back if we needed to in the future. Good magnet, it's on fridge!"
Mr and Mrs H.
Householder
Corfe Mullen, Dorset
Sitting Tenants!
"Thankyou Frank for sorting out our flea problem when we moved into our new home. We didn't realise we were buying them too with the house! Very nice man and came when promised."
Mr E.
Householder
Broadstone, Dorset