Cockroaches and Cockroach control
Common in areas associated with food; commercial premises, public buildings, aircraft and domestic premises.
Cockroaches hide in cracks and crevices during the day such as drains, backs of cupboards, refrigerator motor compartments, and in buildings with service ducts, refuse chutes etc. Being nocturnal, they come out at night where they will consume almost anything, not only food, but also paper, clothing, plastics etc.
Cockroaches are potential carriers of disease. Their faeces may cause asthmatics and the vulnerable to experience allergic reactions.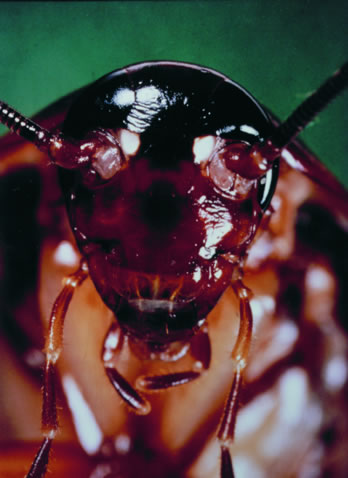 Cockroaches breed rapidly and are a 'high risk pest' to have in the home or business. It is imperative that these pests are dealt with immediately.
South Coast Pest Control has effective experience in the control and prevention of cockroaches.
South Coast Pest Control uses the Exodus ULV Machine – it passes the treatment liquid through a specially designed unit, which generates an airborne mist of fine droplets. These droplets permeate the treated area and settle out onto surfaces. Seeking out and killing roaches in this way results in more efficient extermination than other treatments.
If you are experiencing problems with Cockroaches or other pests, then contact us now by phone or email to discuss your specific requirements. We aim to return your call within 30 minutes.
Now offering an antibacterial service and a deodorising service.
We look forward to helping you……….don't leave it to the pests!
Cockroach worry
"We were worried that insects found in our house were cockroaches. However after talking to South Coast Pest Control and sending some photos they were able to say that they weren't cockroaches rather than a harmless insect having flown in through the window. The staff were quick with their response, thorough and polite and put us out of our worries."
Householder
Parkstone, Dorset