Pigeon and Seagull Pest Control
Birds – Disease & Damage
Pigeons and Seagulls can spread disease such as Salmonella and Ornithosis.
The acidic droppings can damage the paintwork on vehicles.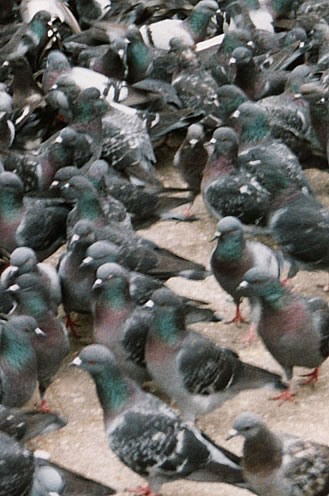 The Feral Pigeon is approximately 33 cm in length and weighs between 280 and 560 grams. Its plumage can vary. There are no visible differences between the sexes.
Feral Pigeons are able to breed through out the year, so nests can be found in any month. Although, it seems the peak appears between March and July. Incubation lasts approximately 18 days.
During the breeding season, seagulls can attack anyone who poses a threat to their nests.
Buildings and surroundings become unsightly and hazardous with bird fouling, and the cost of keeping them clean can soon escalate.
Have you experienced the drive through car park, where seagulls seem to rule the space; what an unpleasant experience. The beer garden; where whilst enjoying a summer's day, a seagull swoops down in attack mode!!! Noise from within the roof space? Pigeons?
South Coast Pest Control will assess the requirements in the way of prevention, treatment and regular servicing.
There are many ways to provide a solution to Bird control, it can be timely, but with regular servicing you will enjoy, once more, a pleasant and clean environment.
If you are experiencing problems with Birds or other pests then call us NOW to discuss your specific requirements.
We look forward to helping you……….don't leave it to the pests!
Peace At Last!
"South Coast Pest Control was recommended to me. I would like the pleasure of passing this on. Birds no longer a problem, thank you Frank."
Miss P.
Householder
Christchurch, Dorset
Easier Than I Realised
"Didn't realise that a few spikes would sort out the bird problem , no more mess. Reasonable rates, turned up on time and cleared the mess. Thank you."
Mrs T.
Householder
Boscombe, Dorset
Bothersome Birds
"We had a bird problem outside our bathroom window, first floor flat. Really nice and clean man. Birds are no more, great service!"
Miss A H.
Householder
Southbourne, Dorset
Spiked!
"
I had spent months putting up with constant noises from pigeons using my window sill as a resting point, just didn't think there was anything you could do to stop them.
But when they started coming into the house when the window was open it was time to call someone in.
My call to South Coast Pest Control was meet with a friendly voice who appreciated the problem and straight away spoke of a number of different ways we could resolve the problem.
Of course I was worried about price. Who isn't nowadays? But South Coast Pest Control explained the options I had, some of which I would be able to do myself, they honestly seemed more interested in helping with my problem than making money.
While going through the options I was pleasantly surprised by the quotes and ended up choosing to have some pigeon spikes installed. Not only was the quote very reasonable they were happy to work round me. They came round at a time to suit me and in no time they had equipped my window-sill with pigeon spikes.
A very friendly and professional service with lots of good advice. I now know there's no need to put up with pests in fear of cost, South Coast Pest Control are only a phone call away with a wealth of knowledge and good honest pricing.
"
Simon Collins
IT Manager